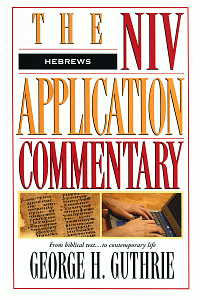 The NIV Application Commentary: Hebrews
Product Details
God speaks effectively to us through Jesus: that is the central theme of the book of Hebrews. Understanding this helps us draw together the different truths presented in one of the weightier New Testament books. Hebrews speaks of a new and better covenant. It links the mysterious priesthood of Melchizedek to the priesthood of Christ. It looks at the nature and the heroes of faith. In short, Hebrews offers a broad theological landscape, but its unifying premise remains: God speaks - and if we listen, his message to us revealed through Jesus will change and shape the lives we live.
This was true for the originial audience of Hebrews; it remains true for us today. In thought and deed, the Word of God is the Word we live by as believers.
Exploring the links between the Bible and our own times, George H. Guthrie shares perpectives on the book of Hebrews that reveal its enduring relevance for our twenty-first-century lives.
About the NIV Application Commentary Series
Most Bible commentaries take us on a one-way trip from our world to the world of the Bible. But they leave us there, assuming that we can somehow make the return journey on our own. They focus on the original meaning of the passage but don't discuss its contemporary application. The information they offer is valuable - but the job is only half done!
The NIV Application Commentary Series helps bring both halves of the interpretive task together. This unique, award-winning series shows readers how to bring an ancient message into our present-day context. It explains not only what what the Bible meant but also how it speaks powerfully today.
About the Author
George H. Guthrie (PhD, Southwestern Baptist Theological Seminary) is Benjamin W. Perry Professor of Biblical Studies and chair of the department of Christian studies at Union University in Jackson, Tennessee. Dr. Guthrie is author of Biblical Greek Exegesis.
Endorsements
This series promises to become an indispensable tool for every pastor who seeks to make the Bible's timeless message speak to this generation.