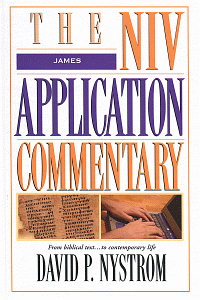 The NIV Application Commentary: James
Product Details
Straight to the point, practical, affirming, convicting - that's the book of James. In it, we see a picture of early Christians wrestling to apply the teachings of Jesus to their everyday lives. And we see a community plagued by divisiveness and hypocrisy, with an emphasis on wealth and status. James pulls no punches addressing these issues, calling for a faith that shows itself in moral actions: in speech, in interpersonal relationships, in economic and social justice. He also lays out a theology of the redemptive value of suffering.
In our day when the behavior and attitudes of professed Christians are often not much different from the surrounding culture, in our society of great wealth, and in our culture that abhors suffering, the challeging message of James is greatly needed. Exploring the links between the Bible and our own times, David Nystrom shares perspectives on the book of James that reveal its enduring relevance for our twenty-first century lives.
About the NIV Application Commentary Series
Most Bible commentaries take us on a one-way trip from our world to the world of the Bible. But they leave us there, assuming that we can somehow make the return journey on our own. They focus on the original meaning of the passage but don't discuss its contemporary application. The information they offer is valuable - but the job is only half done!
The NIV Application Commentary Series helps bring both halves of the interpretive task together. This unique, award-winning series shows readers how to bring an ancient message into our present-day context. It explains not only what what the Bible meant but also how it speaks powerfully today.
About the Author
David Nystrom (PhD, University of California, Davis) is professor of biblical literature at North Park Theological Seminary. He is coauthor of The History of Christianity: An Introduction and a contributor to Holy People of the World: A Cross-Cultural Encyclopedia.
Endorsements
This series promises to become an indispensable tool for every pastor and teacher who seeks to make the Bible's timeless message speak to this generation.