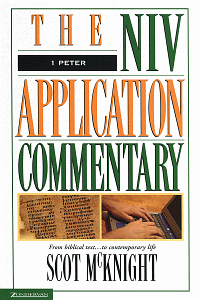 The NIV Application Commentary: 1 Peter
Product Details
Christians by their very nature are countercultural. That doesn't mean it's our goal to be oppositional. It simply means that we follow Jesus, not culture, and allow him to shape us in ways that often don't line up with social conventions and trends.
Yet we live our faith in a very real world. How can we do so with integrity and love in the midst of a society that calls evil good and good evil?
Scot McKnight writes, "The message of 1 Peter concerns how Christians are to live in a hostile environment, and live in such a way that they not only endure but also have a lasting impact for good on that environment." Skillfully bridging the centuries, McKnight connects past context to contemporary circumstances, helping us to grasp the meaning and significance of 1 Peter and apply its message to the concerns we face today.
About the NIV Application Commentary Series
Most Bible commentaries take us on a one-way trip from our world to the world of the Bible. But they leave us there, assuming that we can somehow make the return journey on our own. They focus on the original meaning of the passage but don't discuss its contemporary application. The information they offer is valuable - but the job is only half done!
The NIV Application Commentary Series helps bring both halves of the interpretive task together. This unique, award-winning series shows readers how to bring an ancient message into our present-day context. It explains not only what what the Bible meant but also how it speaks powerfully today.
About the Author
Scot McKnight (PhD, Nottingham) is professor of biblical and theological studies and holds the Karl A. Olsson chair of religious studies at North Park University in Chicago, Illinois. He is an editor of Dictionary of Jesus and the Gospels, is general editor of Guides to New Testament Exegesis, and wrote Interpreting the Synoptic Gospels in that series. He is also the author of 1Peter in the NIV Application Commentary Series.
Endorsements
This series promises to become an indispensable tool for every pastor and teacher who seeks to make the Bible's timeless message speak to this generation.