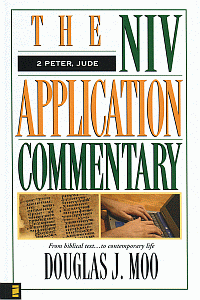 The NIV Application Commentary: 2 Peter and Jude
Product Details
The apostles Peter and Jude wouldn't have made good postmodernists. They insist that there is such a thing as absolute, non-negotiable truth, as well as error and deception. They speak of false doctrines and those who teach them as if they actually believe that eternity hangs in the balance and that God, far from shrugging his shoulders like a good relativist, takes the matters of truth and spiritual authority very seriously.
Today the fiery, unapologetic language of 2 Peter and Jude can open our eyes to stark spiritual realities. Like few other apostolic writings, these two letters shake us awake to the vital necessity of embracing the true gospel and transmitting it undistorted. The message is as counter-cultural as possible, and profoundly timely.
Bridging the centuries, Douglas J. Moo connects past context to contemporary circumstances, helping us grasp the meaning and significance of 2 Peter and Jude and apply them to grounding our faith and lives today on the unchanging truths of Scripture.
About the NIV Application Commentary Series
Most Bible commentaries take us on a one-way trip from our world to the world of the Bible. But they leave us there, assuming that we can somehow make the return journey on our own. They focus on the original meaning of the passage but don't discuss its contemporary application. The information they offer is valuable - but the job is only half done!
The NIV Application Commentary Series helps bring both halves of the interpretive task together. This unique, award-winning series shows readers how to bring an ancient message into our present-day context. It explains not only what what the Bible meant but also how it speaks powerfully today.
About the Author
Dr. Douglas J. Moo (PhD, University of Saint Andrews) is Blanchard Professor of New Testament at Wheaton Graduate School. He is a member of the Evangelical Theological Society, the Institute for Biblical Research, and Society of Biblical Literature. He has authored and coauthored numerous books including The NIV Application Commentary: 2 Peter, Jude and A Commentary on the Epistle to the Romans. He and his wife, Jenny, live in Illinois and have five children.
Endorsements
This series promises to become an indispensable tool for every pastor and teacher who seeks to make the Bible's timeless message speak to this generation.