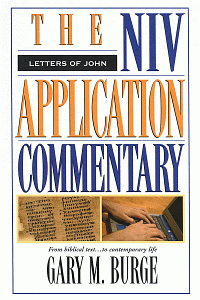 The NIV Application Commentary: Letters of John
Product Details
The letters of John were born in a setting of theological and personal conflict not unlike our own day. John wrote with great pastoral concern to a Christian commmunity that was threatened by disunity and false teaching. In his effort to beat back the gnostic heresy, proclaim the true nature of Christ, and encourage the faithful believers, John weaves together themes of light and darkness, falsehood and truth, and what it means to be children of God's nature and thus love as the defining characteristic of those who follow him.
These three short books have much to teach us about handling conflict, discerning orthodox belief, and measuring Christian conduct. Exploring the links between the Bible and our own lives, Gary Burge shares perspectives on John's letters that reveal their enduring relevance for our twenty-first century lives.
About the NIV Application Commentary Series
Most Bible commentaries take us on a one-way trip from our world to the world of the Bible. But they leave us there, assuming that we can somehow make the return journey on our own. They focus on the original meaning of the passage but don't discuss its contemporary application. The information they offer is valuable - but the job is only half done!
The NIV Application Commentary Series helps bring both halves of the interpretive task together. This unique, award-winning series shows readers how to bring an ancient message into our present-day context. It explains not only what what the Bible meant but also how it speaks powerfully today.
About the Author
Gary M. Burge is a professor in the department of Bible, theology, archeology, and world religions at Wheaton College, and coordinator of undergraduate programs in Bible and theology. He has authored several books including John in the NIV Application Commentary series and Whose Land? Whose Promise? What Christians Are Not Being Told about Israel and the Palestinians.
Endorsements
This series promises to become an indispensable tool for every pastor and teacher who seeks to make the Bible's timeless message speak to this generation.