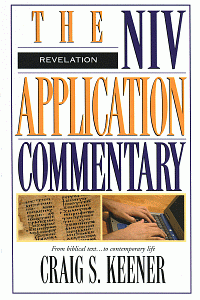 The NIV Application Commentary: Revelation
Product Details
Those who study the book of Revelation usually view it from any of several positions regarding a time of tribulation, the rapture of the church, and the thousand-year reigh of Christ on earth. Some have used Revelation to pinpoint present and future events ranging from the identity of the Antichrist to the exact date and hour of Christ's return. Through the years, such predictions have consistently failed. Yet others who view Revelation as purely historical are left with the dilemma of clearly unfulfilled prophecies.
What can we know about the book of Revelation? What should we make of its visions of apocalyptic horsemen, horns with faces, flying angels, and fantastic beasts? Most important, what meaning does it hold for us here and now, and how can we apply it to our lives?
Exploring the links between the Bible and our own times, Craig S. Keener shares perspectives on Revelation that reveal what it meant to those who first read it and what it means for our twenty-first century lives. With honesty and scholarly insight, Keener helps us strengthen our hope in the future while living out our faith wisely in the present.
About the NIV Application Commentary Series
Most Bible commentaries take us on a one-way trip from our world to the world of the Bible. But they leave us there, assuming that we can somehow make the return journey on our own. They focus on the original meaning of the passage but don't discuss its contemporary application. The information they offer is valuable - but the job is only half done!
The NIV Application Commentary Series helps bring both halves of the interpretive task together. This unique, award-winning series shows readers how to bring an ancient message into our present-day context. It explains not only what what the Bible meant but also how it speaks powerfully today.
About the Author
Craig S. Keener (PhD, Duke University) is professor of biblical studies at Palmer Theological Seminary in Wynnewood, Pennsylvania. He is an ordained minister in the National Baptist Convention, USA, the author of a number of books, including three commentaries that won Christianity Today book awards.
Endorsements
This series promises to become an indispensable tool for every pastor and teacher who seeks to make the Bible's timeless message speak to this generation.