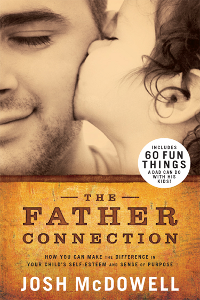 The Father Connection
How You Can Make the Difference in Your Child's Self-esteem and Sense of Purpose
Highlights
Includes 60 fun things a Dad can do with his kids!
Product Details
As a young father I was running scared . . . I feared the culture would capture my kids . . . but I figured if I could find the ultimate model of fatherhood and then emulate that model, I had a fighting chance.
Updated and redesigned for a new generation of dads, Josh McDowell's ECPA Gold Medallion Award winner The Father Connection looks at ten parenting qualities inspired by the ultimate model of fatherhood. Embracing these godly characteristics will make all the difference in a child, boosting self-esteem and sense of purpose, helping him or her to:
Feel loved and secure
Develop a reputation of integrity
Know their dad keeps his promises
Stand up to unhealthy peer pressure
Avoid drug and alcohol abuse
Save sex until marriage
Desire their father's counsel
Admit when they're wrong
Come to their dad in times of trouble or hurt
Admire and respect their father as their parent
About the Author
Josh McDowell, internationally known for his books on apologetics (
Evidence That Demands a Verdict
) and youth culture (
Right from Wrong
) as well as his innovative mission outreaches into the former Soviet Union and Eastern Europe, would tell you in a minute what his first ministry is--his family. He and Dottie, his wife of more than thirty years, still keep tabs on their four children from their home.