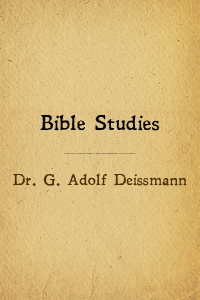 Product Details
Translated from German, Bible Studies contributes, chiefly from Papyri and inscriptions, to the history of the language, the literature, and the religion of Hellenistic Judaism and Primitive Christianity. A few sample chapters include
Contributions to the History of the Language of the Greek Bible
Notes On the Orthography
Notes On the Vocabulary and the Syntax
An Epigraphic Memorial of the Septuagint

About the Author

Dr. G. Adolf Deissmann (1866-1937) was a German Protestant theologian who was known for his work in Greek philology, church reform, and the ecumenical movement. He also raised money for archaeological work at the historic site of ancient Ephesus. Professor of theology at both the Ruprecht Karl University of Heidelberg and Friedrich Wilhelms University of Berlin, he was nominated for the Nobel Peace Prize twice, and was given honorary doctorates from six countries.