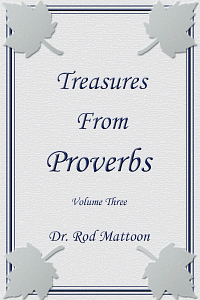 Treasures from Proverbs, Volume 3
Product Details
Exclusive to Wordsearch, Treasures from the Scriptures are expository, verse-by-verse commentaries that emphasize practical application. Each commentary is outlined in an alliterated style and features sermon illustrations that illuminate the Bible text.
One of our best-selling authors, Dr. Rod Mattoon is a master of words. He chooses his words very carefully so everything you get is the core truth. This work is also loaded with illustrations and applications. Mattoon has a knack for giving you exactly what you need, when you need it.
Treasures from the Scriptures is expository and topical. If you are an expository preacher who likes taking Scripture one verse at a time, this commentary will provide. If you like to preach topically, the topical and character trait studies in this volume bring your studies to life. The topics are indexed so they are searchable in Wordsearch.
Easy-to-understand Greek and Hebrew word studies take you deeper in the Word without getting too technical. As you follow Mattoon's verse-by-verse approach, you'll discover he gently dips into the well of biblical languages and always emerges with a clean, fresh understanding of a difficult word.
Mattoon also alliterates almost everything. He helps you by alliterating all of his outlines, sermon points, and key Bible truths. Best of all, every lesson of this commentary has been field tested. Mattoon has actually preached everything he has written.
You'll find the features of this commentary are easy to apply to sermons, lessons, and sharing with others. This commentary series is used every day by pastors, teachers, and Bible students in thousands of churches and over 200 Bible schools and colleges.
Sampling of chapters included in this commentary:
Proverbs on Business Matters, Carelessness, Common Sense
Proverbs on Conceit, Confidence, Consistency
Proverbs on Diligence, Disappointment, Discretion
Check out a sample by clicking on the yellow Sample button underneath the book cover image.
About the Author
Dr. Rod Mattoon has been preaching since 1972 and has served in his current pastorate at Lincoln Land Baptist Church since 1991. In Bible College and Seminary, Dr. Mattoon majored in Bible, and to this day he spends 20-25 hours per week studying the Word of God. In addition to serving as a pastor, writer, and student of the Word, Dr. Mattoon has also worked as a Bible Professor at the Springfield branch of the Moody Bible Institute.
Endorsements
This is excellent material. It is probably the most practical material for sermon preparation of anyone that I have read. I highly recommend it for pastors.
Dr. Rod Mattoon has obviously searched the Scriptures in the production of the Treasures commentary series. Perusing these works will reveal the depth and breadth of his scholarship. I recognize the value of this resource for students of the Bible. I heartily recommend it.
Praise the Lord, you have written three more books. It sure made my day when I opened the mail and read the circular. I have all the previous books you have done and they have been such a help and a blessing to me, not only in my ministry and teaching, but also in my own devotional reading and leisure time. Thank you so much for dedicating the talent the Lord has given you in writing and may He continue to bless you in this area and use you mightily in the days to come to produce some more fine commentaries. They are a great addition to my library. I highly recommend them to other preacher friends.
Dr. Mattoon's commentaries are well outlined, sound in exposition and rich in practical application. In addition there are numerous topical studies in each volume. This series is worth the investment.