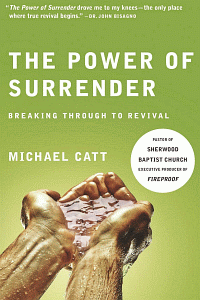 The Power of Surrender
Breaking Through to Revival
Product Details
Michael Catt, senior pastor of Sherwood Baptist Church and executive producer of hit films Facing the Giants and Fireproof, believes the word "revival" has been used in so many ways as to lose its meaning altogether. The Power of Surrender, his third book in the ReFRESH series (after The Power of Desperation and The Power of Persistence) reminds the church that "revival" really means (1) focusing on confession and cleansing, (2) making repentance and restoration a priority, and (3) walking in the fullness of the Holy Spirit and abiding in Christ. Surrender is the key to revival which is the key to spreading the gospel. Catt has witnessed the fruits of these disciplines at his congregation firsthand: "We are now seeing people walk through the baptismal waters. People are being saved. Members are inviting their lost friends and unchurched neighbors. Attendance shot up. Why? Revival produces evangelism."
About the Author
Michael Catt has served as senior pastor of Sherwood Baptist Church in Albany, Georgia, since 1989 and is executive producer of the popular films Flywheel, Facing the Giants, Fireproof, and Courageous that originated from the congregation. He also authored Fireproof Your Life and founded the ReFRESH revival conference. Michael and his wife, Terri, have two children.
Endorsements
The Power of Surrender drove me to my knees-the only place where true revival beings.
The greatest need for the church today is true, genuine, Spirit-sent revival. That is what this book is all about. Read it and weep, pray, repent, and beg God for His mercy. Thank you Michael Catt!
Never in our generation has the moment been more ready for a movement of God. It ALL begins with us. In Michael Catt's newest book, The Power of Surrender, we read, "Surrender begins in the heart. Revival begins in the church." That statement convicts me as a Christ-follower and a pastor. Nothing attracts the God of heaven any more than a humble person before God that raises their heart and hands in ultimate surrender to Jesus! May this be the moment God rains His power upon us! I need this book. You need this book. Get it. Read it. Share it. Most of all, live it to God's glory.