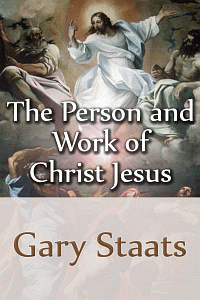 The Person and Work of Christ Jesus
A study of the life and ministry of Jesus Christ (an Old Testament Emmaus walk)
Product Details
The Christological Hebrew and Aramaic grammar volumes will teach grammar in an easy-to-follow style. Each lesson covers one verse from an important Christological passage and includes:
the text of the verse in Hebrew and Aramaic
a list of vocabulary words taken from the verse
notes on the grammar including a historical grammatical perspective, with commentary on meaning and back ground
a translation of the verse based on the grammatical teachings discussed
an expository application/interpretation of the verse with an emphasis on understanding how it can be understood in light of the life and ministry of Jesus Christ.
a brief grammar of Hebrew and Aramaic with parsing rules
The goal of the volume is to teach the Hebrew and Aramaic from an inductive approach looking at each word in its grammatical and lexical meaning. The volume looks at the major Christological texts in the Hebrew Testament with a deep desire not only to teach grammar but to meditate and worship Jesus Christ in the process that He might be glorified. It is an effort to take an Emmaus walk through the Old Testament looking at the major Christological texts in the belief that the study of the Hebrew grammar and these texts will especially elevate Christ.
About the Author:
Dr. Gary Staats is the Gale and Harriette Ritz professor of Old Testament at Winebrenner Theological Seminary in Findlay, Ohio. He received his Bachelor of Arts degree in Bible at Southeastern Bible College in Birminghm, Alabama, in 1963; his Th.M, in New Testament Greek from Dallas Theological Seminary in 1967; his Th.D in Biblical Studies from DTS in 1971; his Master of Arts in Hebrew and Ancient Near Eastern languages at Dropsie College of Hebrew and Cognate Learning in Philadelphia, Pennsylvania, in 1983. He completed his Ph.D, in Hebrew and Ancient Near Eastern Languages at New York University in 1989. Dr. Staats has been a professor and pastor for many years, serving at various schools and in numerous pastorates.