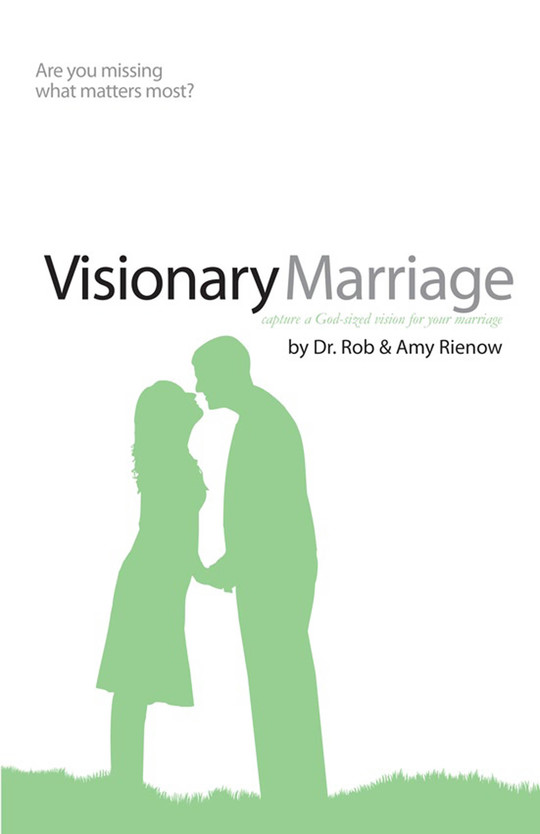 Visionary Marriage
Capture a God-sized vision for your marriage
Product Details
Visionary Marriage provides a message to encourage all couples to understand God's purpose for marriage. Insightful marriage advice is given and meant to draw a couple closer to God and to each other. After years of counseling engaged and married couples, the Rienow's realized that most Christian couples did not have a biblical mission and purpose for their family. The couples had learned some things about communication, sexuality, and conflict resolution. But they didn't know WHY God had brought them together! Visionary Marriage will reveal that God does have a plan and a purpose for marriage and family in the Bible. The focus is on the big-picture purpose of marriage, and the goal of being successful once understanding the purpose. Rob and Amy Rienow give encouragement and insight into life-changing action that will impact your marriage no matter where you are in that stage of life. Couples will be inspired to accept the Bible as sufficient to address all issues of life. Topics covered in the book include: the power of purpose, the mission of spiritual transformation, and encouraging faith in each other. Each chapter ends with questions to be used as food for thought or group discussion. The foundational mission of Visionary Marriage is to know God's purpose for your family and build your life around it.
About the Author
Rob Rienow married Amy in 1994 and have been blessed with six children. Their most important ministry is encouraging each other to be more like Christ and seeking to impress the hearts of their children with a love for God. Together they founded a ministry called Visionary Parenting (visionaryparenting.com) that seeks to inspire families to impact the world for Christ, and equip churches to build biblical family ministries. Rob has served as Family Pastor at Wheaton Bible Church and has also authored other books including God's Grand Vision for the Home and Visionary Parenting. Rob is now speaking and writing full time. The Rienows live in Wheaton, IL.
Amy's first ministry is loving her husband and nurturing faith and character in her children. She has worked as a licensed clinical professional counselor and served in many capacities in her local church. Amy is the author or Shine: Embracing God's Heart for You (Kregel).
Endorsements
I love the way Rob and Amy write because they not only provide a compelling vision for what a faith centered marriage should look like but they also provide the practical ideas you can implement to make it happen!
There are many great marriage resources out there on how to improve your relationship, but what if God has greater plans for your family? Rob and Amy Rienow faithfully present a compelling vision for marriage designed by God for our good and His glory.