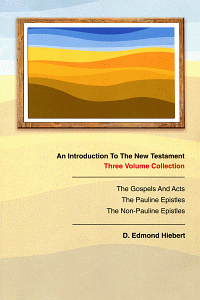 An Introduction To The New Testament: Volume Three
The Non-Pauline Epistles
Highlights
This volume covers the Non-Pauline Epistles.
Product Details
Dr. Hiebert possesses a thorough grasp of the critical problems that have been posed through the centuries regarding the non-Pauline Epistles, and he accords to the various views a respectful and fair hearing. His selection of issues and evidence is valid; he brings up the most important questions. His careful bibliography gives the Bible student an excellent invitation to further careful exploration. This book will be prized by all who have a desire to delve deeply into the New Testament writings.
About the Author
D. Edmond Hiebert (B.S., John Fletcher College; Th.M., Th.D., Southern Baptist Theological Seminary) served on the faculties of Tabor College and Mennonite Brethren Seminary, Fresno, California. He wrote widely on the New Testament, including First and Second Timothy, Titus and Philemon, 1 & 2 Thessalonians, 1 Peter, and James.