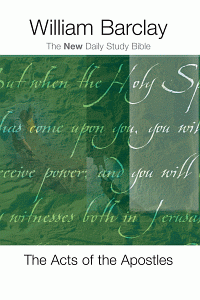 The New Daily Study Bible: The Acts of the Apostles
Product Details
"What Acts aims to do," writes Barclay, "is to give us a series of typical exploits and adventures of the great heroic figures of the early Church. Although the book never says so, from the earliest times Luke has been held to be its writer." If this is so, then Luke wrote both the gospel and Acts with a purpose of showing how the new faith that had begun so humbly in Palestine had expanded. In this volume, Barclay discusses among other things the plan in Acts, Luke's skill as a historian, the accuracy of his sources, and the honesty with which he uses them. Full of unique insights and little-known information about the background of the early Church, this volume again displays Barclay's great ability for clear and perceptive expression.
For almost fifty years and for millions of readers, the Daily Study Bible commentaries have been the ideal help for both devotional and serious Bible study. Now, with the release of the New Daily Study Bible, a new generation will appreciate the wisdom of William Barclay. With clarification of less familiar illustrations and inclusion of more contemporary language, the New Daily Study Bible will continue to help individuals and groups discover what the message of the New Testament really means for their lives.
About the Author
William Barclay (1907-1978) is known and loved by millions worldwide as one of the greatest Christian teachers of modern times. His insights into the New Testament, combined with his vibrant writing style, have delighted and enlightened readers of all ages for over half a century. He served for most of his life as Professor of Divinity at the University of Glasgow, and wrote more than fifty books--most of which are still in print today. His most popular work, the Daily Study Bible, has been translated into over a dozen languages and has sold more than ten million copies around the world.