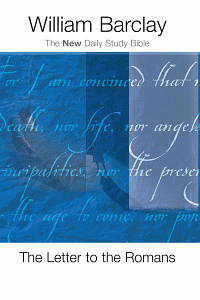 The New Daily Study Bible: The Letter to the Romans
Product Details
Both in mood and in method, Romans is an entirely different epistle than Paul's other writings. Instead of being concerned with immediate, practical problems, the apostle sets down in a systematic fashion the essence of his faith, handing down in a sense a "theological last will and testament." In ways that no other writing of the New Testament has achieved, the ideas expressed in the letter to the Romans have shaped formatively the whole of Christian belief. Barclay's fresh translation and clear exposition allows readers the chance to see the heart of Paul's gospel.
For almost fifty years and for millions of readers, the Daily Study Bible commentaries have been the ideal help for both devotional and serious Bible study. Now, with the release of the New Daily Study Bible, a new generation will appreciate the wisdom of William Barclay. With clarification of less familiar illustrations and inclusion of more contemporary language, the New Daily Study Bible will continue to help individuals and groups discover what the message of the New Testament really means for their lives.
About the Author
William Barclay (1907-1978) is known and loved by millions worldwide as one of the greatest Christian teachers of modern times. His insights into the New Testament, combined with his vibrant writing style, have delighted and enlightened readers of all ages for over half a century. He served for most of his life as Professor of Divinity at the University of Glasgow, and wrote more than fifty books--most of which are still in print today. His most popular work, the Daily Study Bible, has been translated into over a dozen languages and has sold more than ten million copies around the world.