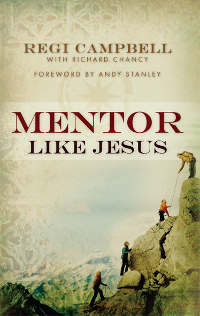 Product Details
More time, spent with fewer people, equals greater kingdom impact.
Desiring to see God widely embraced as more than a remote concept, entrepreneur Regi Campbell began a deeply successful mentoring program years ago that has become one of his greatest joys. Though it seemed radical at first—spending more time with less people to further an all important message—he soon realized this is the discipleship model Jesus set out during his ministry; today two billion people worldwide embrace the wisdom He entrusted to a small band of disciples two thousand years ago.
Mentor Like Jesus is Campbell's revelation of what he now calls "next generation mentoring," an exponentially rewarding process that is resulting in "lives changed, marriages saved, children dealt with in a more loving way." Readers of any age and in any situation will clearly understand how the return on a meaningful investment in another person is truly immeasurable.
The principles in Mentor Like Jesus are applied and tested in Campbell's ministry, Next Generation Mentoring: a proven system for creating mentoring small groups in churches. The process of Next Generation Mentoring (NGM) has a demonstrated track record of success and can be implemented in churches with no increase in staff or budget. NGM provides all the tools and a comprehensive framework for helping the church develop leaders, just as Jesus did.
About the Author
James R. (Regi) Campbell is an experienced investor and entrepreneur who has intentionally sought to make a difference for God's kingdom in the marketplace since becoming a Christian in 1983. As president and CEO of Async Corporation, he was recognized as Georgia's high technology Entrepreneur of the Year. Regi then founded InterServ Services Corporation in 1993, growing revenues to $50 million in four years. Since 1997, Campbell has helped launch eight more start-up companies through his Seedsower Investments. He also serves as an elder at North Point Community Church and has mentored eight different young executives each year since 2000.
Regi and his wife, Miriam, have two children and three grandchildren.
Endorsements
Regi Campbell is known as a master mentor. He has discovered that his best practices come from the Master...Jesus Himself! Now he shares them with us. Dive in...you'll be glad you did.