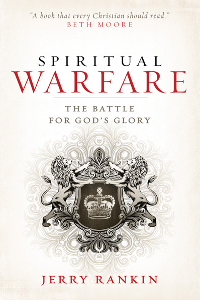 Spiritual Warfare
The Battle for God's Glory
Product Details
Christians already have victory over the world through Jesus, but Satan picks a fight with believers nonetheless, using earthly temptations and trails in an effort to steal God's glory. Indeed, the battle rages on, but the nature of the enemy is baldly exposed in Spiritual Warfare, helping us better understand and process feelings of resentment, anger, doubt, pride, and adversity for what they really are: fiery darts of deception.
Written by International Mission Board president Jerry Rankin, who has witnessed spiritual warfare at work firsthand around the world for decades, this book is ultimately an inspiring guide to the Spirit-filled life. Rankin clearly and lovingly illuminates the spiritual disciplines that equip us for victory against Satan including prayer, Bible study, fasting, Sabbath observance, active church membership, and praising God in all things.
About the Author
Jerry Rankin and his wife, Bobbye, spent twenty-three years as missionaries in Asia until he became International Mission Board president in 1993. He now leads the IMB with a vision of missionaries, churches, and volunteers partnering to take the gospel to all people. Rankin earned a bachelor's degree from Mississippi College and his master of divinity from Southwestern Baptist Theological Seminary. The Rankins live in Richmond, Virginia.
Endorsements
Too many works about spiritual warfare are more about Satan than God, more about anecdote than the Bible, and more about power displays than Christian discipleship. This book will likely stretch you--perhaps even to points of disagreement at times--but it takes you to the bottom line of victory in spiritual warfare: living daily in the power of God. Read this book, and learn from a man who longs for the entire world to know this Christ-centered victory.
Can there be consistent victory against our selfish disposition, our seductive and oppressing environments, and the unseen, dark power of our enemy? Jerry Rankin answers these questions with a resounding 'yes' in speicific, clear, exciting, compelling biblical detail. This book is Scripture saturated, evangelical in orientation, and packed with powerful illustrations from the author's personal experience. It will give the reader guidance, encouragement, conviction, and hope for living a victorious Christian life.
If anybody knows that servants of God are in a furious battle with an unseen enemy who will do anything he can to halt kingdom work, my friends Jerry and Bobbye Rankin do. As the day-in, day-out leader of an army of several thousand missionaries mobilized around the globe, Dr. Rankin is in a unique position to tell people like you and me what God is doing around the world. From an eyes-on, hands-on perspective, he also tells us what Satan is doing to try to stop Him. Of all things I love best about the Rankins, this is chief: they are rock solid in doctrine but not stifled or stuffy in how they live it out. They're all about Jesus, and how He reaches the hearts and saves and fortifies the lives of real people.