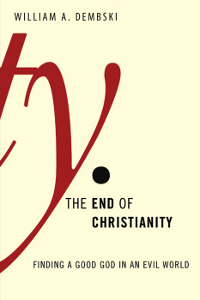 The End of Christianity
Finding a Good God in an Evil World
Product Details
Theodicy attempts to resolve how a good God and evil world can coexist. The neo-atheist view in this debate has dominated recent bestseller lists through books like The God Delusion (Richard Dawkins), God Is Not Great (Christopher Hitchens), and The End of Faith (Samuel Harris). And their popularity illuminates a changing mental environment wherein people are asking harder questions about divine goodness. Surprisingly, these books please intelligent design champion William Dembski, because "They would be unnecessary if Christianity were not again a live issue."
Entering the conversation, Dembski's provocative The End of Christianity embraces the challenge to formulate a theodicy that is both faithful to Christian orthodoxy and credible to the new mental environment. He writes to make peace with three claims:
(1) God by wisdom created the world out of nothing.
(2) God exercises particular providence in the world.
(3) All evil in the world ultimately traces back to human sin.
In the process, Dembski brings the reader to a fresh understanding of what "the end (result) of Christianity" really means: the radical realignment of our thinking so that we see God's goodness in creation despite the distorting effects of sin in our hearts and evil in the world.
About the Author
A mathematician and philosopher, William A. Dembski is Research Professor in Philosophy at Southwestern Baptist Theological Seminary in Ft. Worth, TX. He is also a senior fellow with Discovery Institute's Center for Science and Culture in Seattle. Previously he was the Carl F.H. Henry Professor of Theology and Science at The Southern Baptist Theological Seminary in Louisville, where he founded its Center for Theology and Science. Before that he was Associate Research Professor in the Conceptual Foundations of Science at Baylor University, where he also headed the first intelligent design think-tank at a major research university: The Michael Polanyi Center.
Dr. Dembski has taught at Northwestern University, the University of Notre Dame, and the University of Dallas. He has done postdoctoral work in mathematics at MIT, in physics at the University of Chicago, and in computer science at Princeton University. A graduate of the University of Illinois at Chicago where he earned a B.A. in psychology, and M.S. in statistics, and a Ph.D. in philosophy, he also received a doctorate in mathematics from the University of Chicago in 1988 and a master of divinity degree from Princeton Theological Seminary in 1996. He has held National Science graduate and postdoctoral fellowships.
As interest in intelligent design has grown in the wider culture, Dr. Dembski has assumed the role of public intellectual. In addition to lecturing around the world at colleges and universities, he is frequently interviewed on the radio and television. His work has been cited in numerous newspaper and magazine articles, including three front page stories in the New York Times as well as the August 15, 2005 Time magazine cover story on intelligent design. He has appeared on the BBC, NPR (Diane Rehm, etc.), PBS, CSPAN2, CNN, Fox News, ABC Nightline, and the Daily Show with Jon Stewart.
Endorsements
Inevitable, it is the pernicious problem of pain and evil that the atheists and agnostics refer to as an excuse for not believing in God. Bill Dembski clears away this stumbling block and offers readers an original way of dealing with the problem which fits with an orthodox view of God' good creation and fits with scientific facts.
Happily, there are many good books being written today. But it is rare, indeed, to find a book that towers over the others in profundity and quality. William Dembski's The End of Christianity is such a book. It is so interesting and well written that I could not put it down. But more importantly, I have read very few books with its depth of insight, breadth of scholarly interaction, and significance. From now on, no one who is working on a Christian treatment of the problem of evil can afford to neglect this book. It is vintage Dembski and I highly recommend it.
In The End of Christianity William Dembski demonstrates his every-persistent willingness to follow evidence wherever it leads. On one hand, he follows scientific evidence pointing to a universe billions of years old. On the other, he follows scriptural evidence demonstrating natural disasters and animal death to be consequences of the Fall. Through an astonishingly accessible exploration of science, philosophy, and theology, he harmonizes the paradigms while bringing healing to the process. Dembski's insights may well prove to be a Copernican breakthrough.
As his books prove with monotonous regularity, Bill Dembski's brain run circles around my own (and just about everyone's I naturally like to believe); but like all the others, The End of Christianity is also intellectually honest, generous, and respectful--and not, I'm convinced, as merely a gambit. Christian readers will find Dembski's theodicy devotionally worthwhile, all of us intellectually so. Nice combination, not easily achieved.