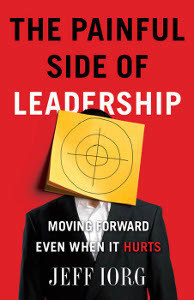 The Painful Side of Leadership
Moving Forward Even When It Hurts
Product Details
Christian leadership is often likened to the peaceful image of a shepherd leading his sheep. But the truth is that sheep tend to wander toward trouble, and shepherds don't always handle the challenges of their job with grace and ease.
The Painful Side of Leadership encourages and equips Christian leaders with biblical insights to better manage painful ministry circumstances, relationships, and choices. Author and seminary president Jeff Iorg writes candidly throughout to those who may feel beaten up by their mistakes, their critics, or having to make unpopular decisions. His insights are framed with chapters about why painful things happen to Christian leaders in the first place and the hope that God always provides when a leader is hurting.
About the Author
Jeff Iorg, president of Golden Gate Baptist Theological Seminary, is also the author of The Character of Leadership and Is God Calling Me? He holds degrees from Hardin Simmons University and Midwestern and Southwestern Baptist Theological Seminaries and has answered God's call to be a church planter, pastor, and denominational executive. Jeff and his wife, Ann, live in Mill Valley, California.
Endorsements
Honest. Personal. Transparent. Practical. These are words that capture the heart of The Painful Side of Leadership. Dr. Iorg is a man for whom I have the greatest respect. When he talks I listen. When he writes I pay attention. He has give to those called to lead a valuable and helpful guide as they seek to serve those under their watch care.
In recent times, no one has captured the total experiences of leaders to dare to ansewr the call of leadership as Dr. Jeff Iorg has done in this book, The Painful Side of Leadership . As a retired pastor, I wish I would've had such a resource during my thirty-seven years as pastor of St. Stephen Missionary Baptist church in La Puenta, California. Surely, many decisions I made during those years I would have handled in a different manner. Every leader should have this book as a powerful resource, written by a man whose life-long experiences have been chronicled for our benefit.
This is a highly applicable, read-to-use guide for navigating the challenges of leadership. As you continue to expand your influence and leadership capacity, you realize that practical advice, clear counsel, and godly wisdom are everyday necessities. Those are the gifts you receive in Dr. Iorg's outstanding book.