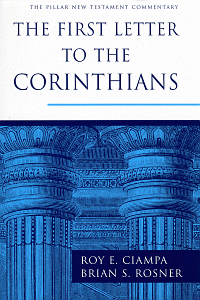 Pillar New Testament Commentary: The First Letter to the Corinthians
Highlights
Greek vocabulary and verb tenses are regularly discussed
Designed both for serious students and for general readers of the Bible
Commentaries are exegetical in nature, but with an intent to aid expositors
Product Details
This thorough commentary presents a coherent reading of 1 Corinthians, taking full account of its Old Testament and Jewish roots and demonstrating Paul's primary concern for the unity and purity of the church and the glory of God. Roy Ciampa and Brian Rosner's well-informed, careful exegesis touches on an astonishingly wide swath of important yet sensitive issues, reinforcing the letter's ongoing theological and pastoral significance.
The Pillar New Testament Commentary, designed for serious readers of the Bible, seeks above all to make clear the meaning of the text of Scripture as we have it. Writers of the PNTC volumes interact with the most important, informed contemporary debate yet avoid undue technical detail. Their ideal is a blend of rigorous exegesis and exposition, scholarship and pastoral sensitivity, with an eye alert both to biblical theology and to the contemporary relevance of the Bible.
About the Authors
Roy E. Ciampa is Professor of New Testament and Chair of the Division of Biblical Studies at Gordon-Conwell Theological Seminary, South Hamilton, Massachusetts.
Brian S. Rosner is Senior Lecturer in New Testament and Ethics at Moore Theological College and Honorary Senior Research Fellow in Ancient History at Macquarie University, Sydney, Australia.