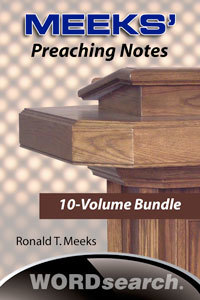 Meeks' Preaching Notes Bundle
Product Details
This 10 volume collection of sermon notes promises to bring fresh ideas and insight to well-known and overlooked passages of scripture. Meeks uses the homiletical method to create inspiring sermon outlines and notes on different books in the bible.
Dr. Ronald T. Meeks is professor of Biblical and Associated Studies and director of Church Relations at Blue Mountain College. Originally from Corinth, Mississippi, Meeks received a Bachelor of Arts from Blue Mountain College in 1983. In 1986 he earned the Master of Divinity in Biblical Studies from New Orleans Baptist Theological Seminary, followed by a Doctor of Philosophy degree in Pastoral Ministry in 1996. Meeks has served as associate pastor of the Oakland Baptist Church in Corinth, pastor of the Highland Baptist Church in Pass Christian, Mississippi, pastor of the Wanilla Baptist Church in Monticello, Mississippi, and since 1997, is on faculty at Blue Mountain College.
Dr. Meeks and his wife Julie have three children and live in Corinth.
Products Included In This Bundle