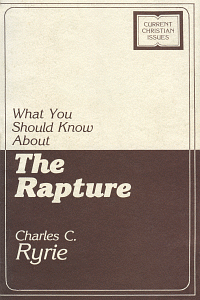 What You Should Know About the Rapture
Product Details
The rapture should interest every Christian, for we will all be a part of it at some future date. Dr. Charles Ryrie examines what the Bible has to say about the rapture and carefully explains the chain of events that will lead up to that event. He then discusses what the rapture is and what exactly will happen on the day Christ returns for His church.
Dr. Ryrie also delves into the yet unfulfilled prophecies regarding the end of the world and, by doing so, points out that the rapture could be very close at hand.
Dr. Ryrie leads one to the exciting realization that for believers the best is yet to come.
About the Author
Charles C. Ryrie (Th.M., Th.D., Dallas Theological Seminary; Ph.D.,University of Edinburgh) was professor of systematic theology at Dallas Theological Seminary. He is the author of numerous books including the Ryrie Study Bible.