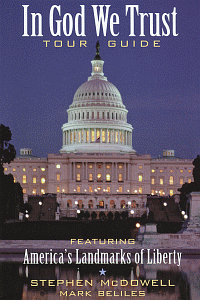 In God We Trust
Tour Guide
Product Details
This fascinating guide will take you to America's great historical sites and uncover the stories of their Christian foundations. You'll learn of the Godly men and women who founded the towns, built the monuments, and were honored by the memorials in places like...
Washington D.C.
Mt. Vernon
Philadelphia
Jamestown
Williamsburg
Yorktown
Charlottesville
Richmond
and more!
For example, do you know what words are inscribed on the capstone of the Washington Monument? You won't hear of them on the official tour, but you'll find them inside!
Along the way you'll meet the men who helped found this great nation through biographical sketches which highlight their lives and beliefs. You'll discover the personal faith of men such as...
Thomas Jefferson
William Penn
James Madison
George Washington
George Mason
Patrick Henry
and many more!
If you're planning a trip to any of these historical sites or are simple interested in the stories and the people behind them then you're sure to enjoy In God We Trust.
About the Authors
Stephen McDowell is the President of the Providence Foundation's Biblical Worldview University. In over 26 years of full-time work with the Foundation, Stephen has trained many thousands of people from every U.S. state and over 100 countries. He has traveled to 30 nations in six continents where he has consulted with government officials, assisted in writing political documents, advised political parties, and started Christian schools and Biblical worldview training centers. He has authored and co-authored over 20 books, videos, and training courses including Liberating the Nations and In God We Trust Tour Guide. McDowell holds a master's degree in geophysics, served for several years as a pastor, and has been an adjunct professor at Regent University.
Dr. Mark Beliles is the President of National Transformation Network of Providence Foundation and senior pastor of Grace Covenant Church in Charlottesville, Virginia. Beliles has lectured throughout the U.S. and in over 30 nations and frequently advises Christian prime-ministers, vice-presidents, congressmen, and members of parliaments on Biblical principles of government. Beliles has co-authored several books, including Contending for the Constitution, and his essays and doctoral dissertation (Churches and Politics in Jefferson's Virginia) are cited and published by various academic journals.