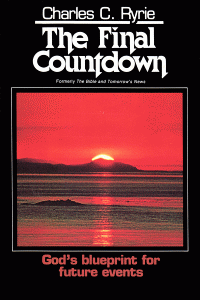 The Final Countdown
God's blueprint for future events
Product Details
God has the last word about
Israel and Her Future
the Church
the Rapture
the Tribulation
the Judgments
and Peace on Earth
This is a practical book about Bible prophecy and events that will someday be news headlines. You can profit from the study of this book and learn:
how to have confidence in the face of confusion
how to find comfort in times of sorrow
how to help bewildered people find Christ
how to experience cleansing in your life
About the Author
Charles C. Ryrie (Th.M., Th.D., Dallas Theological Seminary; Ph.D.,University of Edinburgh) was professor of systematic theology at Dallas Theological Seminary. He is the author of numerous books including the Ryrie Study Bible.