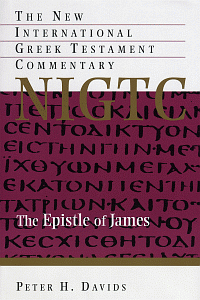 NIGTC: The Epistle of James
Highlights
The New International Greek Testament Commentary
Product Details
This acclaimed commentary by Peter H. Davids interacts extensively with both recent and older literature on the Epistle of James, including German and French works. At the same time, Davids's own penetrating insights themselves spark fresh debate on the composition, purpose, and meaning of the text of this important New Testament book.
In an extensive introduction Davids considers questions concerning authorship, date of composition, form and structure, and the language and style of the text. He also explores seven key theological themes in James: suffering/testing; eschatology; Christology; poverty-piety; the relation of law, grace, and faith; wisdom; and prayer.
The commentary proper exhibits careful exegesis and a wealth of insight into the meaning of the text for its original audience and for the church today. Davids is well acquainted with the relevant Hellenistic, Jewish, and early Christian literature and uses it frequently to point out parallels and to clarify the meaning of the text. His work also includes several helpful tables, charts, and a comprehensive bibliography on James.
About this Series
This commentary series is established on the presupposition that the theological character of the New Testament documents calls for exegesis that is sensitive to theological themes as well as to the details of the historical work lies at the heart of these volumes, which contain detailed verse-by-verse commentary preceded by general comments on each section and subsection of the text.
An important aim of the NIGTC authors is to interact with the wealth of significant New Testament research published in recent articles and monographs. In this connection the authors make their own scholarly contributions to the ongoing study of the biblical text.
The text on which these commentaries are based on the UBS Greek New Testament, edited by Kurt Aland and others. While engaging the major questions of text and interpretation at a scholarly level, the authors keep in mind the needs of the beginning student of Greek as well as the pastor or layperson who may have studied the language at some time but does not now use it on a regular basis.
About the Author
Peter H. Davids is professor of biblical theology at St. Stephen's University, St. Stephen, New Brunswick. His other books included the New International Commentary on the New Testament volume on 1 Peter and the Pillar New Testament Commentary volume on 2 Peter and Jude.
Endorsements
A major contribution to our understanding of James. ...Davids has skillfully used contemporary critical and exegetical tools to produce a first-rate commentary.
Davids's commentary is a mine of information and is characterized by careful exegetical method...It deserves critical attention.
A conservative yet provocative look at the Epistle of James...The many well-balanced discussions are strengthened by good summaries and frequent parallels to ancient literature...A fine exegetical piece.