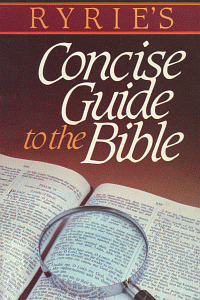 Ryrie's Concise Guide to the Bible
This title works with the following Wordsearch products
Desktop
Product Details
What makes the bible the same authority for millions of Christians in totally different cultures?
How did Christ use the Bible of His day?
What about problems in the Old and New Testament?
How can we most profitably study the Bible?
The answers to these questions, plus an unusual question-and-answer approach to each book of the Bible, makes this book a unique contribution to an understanding of the Bible by the author of the notes in the popular Ryrie Study Bible.
Recognized for his ability to present significant ideas simply and succinctly, Charles Ryrie has combined many years of teaching the Bible and theology as well as a special interest in collecting unique Bible editions, to product an invaluable introductory guide to the Bible.
About the Author
Charles Caldwell Ryrie, born in 1925, graduated from Haverford College, B.A., Dallas Theological Seminary, Th.M., Th.D. and the University of Edinburgh, Scotland, Ph.D. He was ordained by the First Baptist Church in Alton, Illinois. He spent five years at Westmont College, first as a professor, later as the dean of men and chairman of Biblical studies and philosophy. For many years he served as professor of systematic theology and dean of doctoral studies at Dallas Theological Seminary and is now professor emeritus. In 1958 he became president and professor at Philadelphia College of Bible and currently acts as visiting professor. He is a premillennial dispensationalist, though irenic in his approach.H
Ryrie is the annotator of the Ryrie Study Bible, Expanded Edition and author of many books, including Balancing the Christian life, Basic Theology, and The Holy Spirit. In 1985, he was one of the recipients of the Gold Medallion Book Award from the ECPA. In 2009, FIBA honored Dr. Ryrie by presenting him with a plaque for his outstanding service to the Christian community around the world for the glory of God.