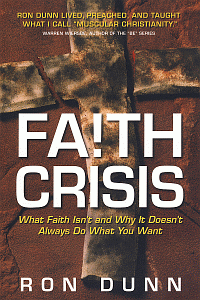 Faith Crisis
What Faith Isn't and Why It Doesn't Always Do What You Want
Product Details
Ron Dunn tells us that any day now someone is going to sue God for breach of promise. After all, there are plenty of Christians who assure us that if we just have enough faith, we'll have everything we need, and everyone we love will be healthy. And when we experience difficulties, these same folks are quick to tell us it was our lack of faith that caused them. it's enough to give faith a bad name.
Many well-meaning Christians misunderstand the role that faith plays in our relationships with God. And because we don't understand the ways of God, we open ourselves up to the loss of faith if he doesn't deliver what we want, when we want it. But God always rewards real faith; the Bible promises this. So what, then, is true faith? And how do we tell the difference between truth and a counterfeit faith that is nothing more than false advertising?
Inside, Ron Dunn walks you through a study of the nature of faith, using Scripture and real-life examples to show what the genuine article looks like, so there's no mistaking it. You'll learn that it's not about quantity but quality, and that the reward of faith is not in blessings but in experiences the very presence of God.
About the Author
A graduate of Oklahoma Baptist University, Ronald Dunn was saved at the age of nine, began preaching at fifteen, and pastored his first church at seventeen. He is the author of several books, including the best-selling book Don't Just Stand There--Pray Something. Before his death at the age of sixty-four in 2001, he had a worldwide itinerate ministry of Bible teaching and preaching and served as the minister-at-large for the MacArthur Boulevard Baptist Church in Irving, Texas. He was also the president of LifeStyle Ministries, an organization that provides Ron's message on audio tapes, CDs, DVDs, and audio books. LifeStyle Ministries is now headed by his wife, Kaye.
Endorsements
I commend Ron Dunn's words to you, for they fell directly from his life, and his life was rich with instruction, and his instruction was rich with truth.
If your Christian life is being smothered by a powerless "formula faith," then this is the book you need. Ron Dunn shows you how to move from "God can" and "God will" to "God has!" Based on God's Word, the counsel in this book can transform faith from a religious word in your vocabulary into a real power in your life.