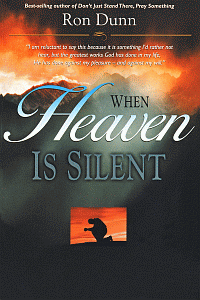 When Heaven is Silent
Trusting God When Life Hurts
Product Details
Following the tragic death of his son, Ron Dunn made a shattering discovery--You can trust God and still get hurt.
Forced to walk through a painful reality of unanswered questions, he experienced firsthand the processes of grief, guilt and depression.
Gradually gaining new perspectives on suffering as he journeyed toward healing, Dunn shares insights found along the way. From asking God "Why?" to the forward-moving "What now?" he began to move from darkness into light. Dunn encourages us to believe that our pain and sorrow are carried in the nail-scarred hand of a sovereign God who purposes to bless us, even when heaven is silent.
About the Author
Ron Dunn (1936-2001) founded LifeStyle Ministries and began an annual conference for pastors, continued today as the "Ron Dunn Encourager Conference." He spent the rest of his life speaking full-time in conferences and churches as well as authoring several books. Dunn died in 2001. His wife, Kaye, is today the preident of LifeStyle Ministries, and www.rondunn.com, shares more about this ongoing work.
Endorsements
Ron Dunn has walked the valley of the shadow of death. Only such are qualified to write of the Christ we meet on the heights of our triumph. Read this book slowly...Let it seep into your soul--that you may share in its victory.
When Heave is Silent deals with heavy issues in an honest, heartwarming, helpful fashion.