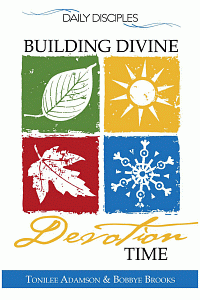 Building Divine Devotional Time
Product Details
Building Divine Devotional Time is a 365 day devotional that will guide you through each day. This is a collection of the most requested devotionals written by Bobbye and Tonilee. With each scripture reference plus the day's message, you will experience the blessing of how the Word of God can be applied to your life daily. Learn to become more powerful and productive as you build your devotional time with God . Your head will lift as your heart is filled with His truths.
Daily Disciples Ministries, Inc. was founded by Tonilee Adamson and Bobbye Brooks, two women who share a vision to reach the world for Christ by teaching others how to be His daily disciples. Their mission is to evangelize the lost and awaken the saved to live lives empowered by the Word of God and His Holy Spirit. By encouraging everyone to be a daily disciple of Jesus Christ, they teach and train those who desire to grow, to serve and to have all that God has for them. From Bible studies to daily devotionals to daily radio programs to a comprehensive discipleship program, Bobbye and Tonilee have a passion to help others apply the Word of God to their lives every day.
About the Authors
Bobbye Brooks and Tonilee Adamson met at a church bible study and became prayer partners. They share a desire to help women learn how to apply the Bible to their lives on a daily basis. Like many women, today, they both have professional backgrounds, busy lives and active families, which give them insight into the struggles and challenges of walking out of the Christian life every day. Over the years, Bobbye and Tonilee have continued writing and teaching weekly bible studies, have an interactive website that offers audio and video teachings and daily devotionals, host a daily radio program and live webcast events. They speak to women all over the world through person appearances, their website teachings and written materials. Their unique style involves two women sitting on two stools engaging the audience in an intimate and personal setting. They bring passion, power and fun to every message.