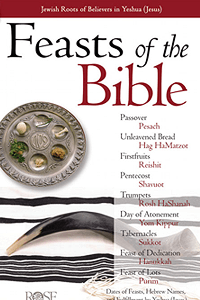 Feasts of the Bible
Jewish Roots of Believers in Yeshua (Jesus)
This title works with the following Wordsearch products
Desktop
Product Details
Throughout the Old Testament, God commanded the children of Israel to observe his holy days (holidays) to remember the mighty things that he had done in the lives of Israel's forefathers. The Feasts of the Bible pamphlet celebrates and explains the meaning behind the different feasts and why they are important to God. Feasts of the Bible contains an easy-to-read chart that provides each holiday's name, explanation, date of observance, and symbolic meaning pointing to Jesus as the promised Messiah.
Why should you learn about the Hebrew roots of Christianity? As a Jew, Jesus celebrated these feasts and holidays each year. The pamphlet is an excellent tool to learn about the Jewish roots of Christianity and to discover Yeshua, "Jesus," in each "holy day." The pamphlet shows the Hebrew name, spelling, pronunciation, symbolism of Jesus, Bible references, and New Testament fulfillment for each of God's appointed feasts.
The Feasts of the Bible pamphlet provides important insights into the works of God on behalf of his chosen people. Feasts of the Bible is a celebration of the rich and meaningful heritage given to believers through Christ. The pamphlet reveals insightful and historical facts about each of the holidays.Feasts of the Bible is a fantastic teaching tool for churches and groups who want to explore their Jewish heritage found in Christ. Believers will also find the observance of the feasts and holidays as a meaningful way to add depth to their devotion to God.