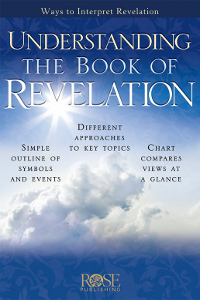 Understanding the Book of Revelation
Ways to Interpret Revelation
Product Details
The book of Revelation is an exciting yet often misunderstood book of the Bible. It was probably penned between 35 and 65 years after Jesus' resurrection. This text became a source of hope and encouragement for Christians facing persecution.
This simple chart compares different ways Christians throughout the centuries have understood Revelation. Seeing the different approaches to Revelation at a glance will help clarify issues of interpretation and give new insight.
Although the book of Revelation allows for many interpretations, all Christians seem to agree that:
The message of the book is relevant for Christians today, as it was for Christians in the times of the apostles;
The main purpose of the book is to provide hope and encouragement for believers of all times, especially in times of persecution or suffering;
The message of the book is clear on at least three points:
Christ is coming back and will judge humanity;
The powers of evil are doomed before Christ;
God promises a wonderful future for all who believe in Christ.