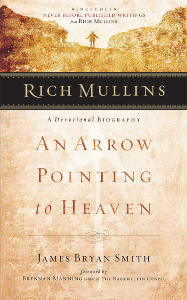 Rich Mullins: An Arrow Pointing to Heaven
A Devotional Biography
Highlights
Includes never before published writings from Rich Mullins
Product Details
I don't know if God wept at Moses' funeral...I don't know who will bury me...But I look back over the moments of my life and see the hands that carried Moses to his grave lifting me out of mine.
—Rich Mullins
Rich Mullins rose to fame and fortune in the music industry and then gave it all away to live in obsucrity among Native Americans on a reservation in New Mexico, teaching children the joy of music and the hope of the gospel. Then his life, so full of promise, came to a tragic end in an auto accident.
During his life, Rich Mullins challenged the sensibilities of what it means to follow Jesus in today's world, and now in his death, he challenges all to build upon his legacy of joy, compassion, brokenness, unblinking honesty, and wonder of an Awesome God.
About the Author
James Bryant Smith teaches theology at Friends University in Wichita, Kansas. His previous books include Embracing the Love of God, A Spiritual Formation Workbook, and Devotional Classics(co-edited with Richard Foster).
Jim's deep friendship developed with Rich Mullins over the last seven years of Mullins's life. While Mullins attended Friends University, he lived in an attic apartment in the Smith's home for two years.
Jim describes this book as a "devotional biography," giving readers an insight into Rich's life but, more importantly, allowing the readers to learn what was most important to Rich: urging people to draw near to God.
Endorsements
Rich Mullins: An Arrow Pointing to Heaven is the most powerful book I have read in the last five years...it is the purest echo of the gospel I have read in a long, long time.
In An Arrow Point to Heaven, James Bryan Smith writes fondly of his friend Richard Mullins. Even more, he shares the spirit of devotion that characterized Rich's life. Even mores still, he points us to that great reservoir of devotion that has sustained followers of Jesus Christ throughout the centuries.
I don't know many people who have died and left so many people saying, 'I need what Rich Mullins's life brought to the table, and I don't know where else to find it except in looking at his life and listening to what he had to say.'
The years I spent inordinate amounts of time with Rich, from 1991 till his passing, were filled with a constant sense of wonder with what God had prepared for us, His children. I'll never regret the time we had to enjoy the journey. This book will give the reader a glimpse into that world.
An Arrow Pointing to Heaven gives us an intimate and honest picture of Rich, but even more importantly, the book gives us a passionate, powerful picture of the God Rich loved. Read with caution: This is a dangerously challenging work about a life lived in pursuit of God's own heart. you will not make it to the final chapter unchanged.