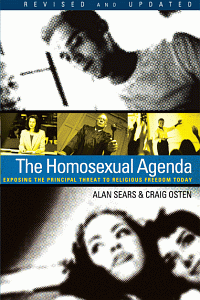 The Homosexual Agenda
Exposing the Principal Threat to Religious Freedom Today
Product Details
In The Homosexual Agenda Alan Sears and Craig Osten expose the goals of the homosexual movement and its rising legal activism. The homosexual agenda has as its primary aim to "trump" the rights of all other groups, especially those of people of faith. Sears and Osten provide well-documented proof that American is not only becoming more tolerant of homosexual behavior, it is becoming less tolerant of those who disagree with the lifestyle.
About the Authors
Alan Sears is the president, CEO, and general counsel of the Alliance Defense Fund, an organization dedicated to the defense of religious freedom, the sanctity of human life, and traditional values.
Craig Osten is the Vice-President of Creative Services for the Alliance Defense Fund.
Endorsements
The Alliance Defense Fund...is doing a wonderful work in defending religious liberty and preserving the rights of Christian people.
The message of this book is must-reading for every concerned American.
This book could be the instrument that will reverse the tide of influence that this devastating vice is having on American society today.
I commend Alan Sears and Craig Osten for having the courage to tell the truth about this highly destructive movement.
This may well be the most significant religious liberty issues of our time.
This ground-breaking book destroys the myth that homosexual activists simply want equal rights...A must-read for every pastor.
This book is courageously but compassionately written.