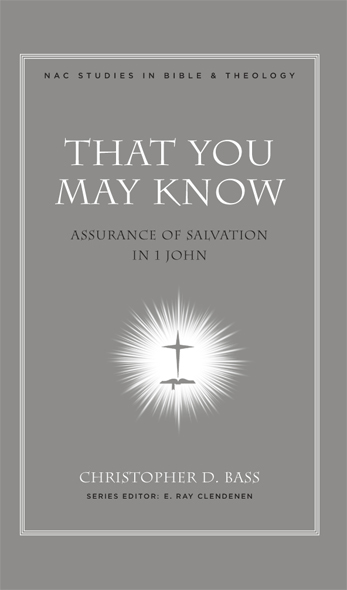 New American Commentary Studies in Bible & Theology: That You May Know
Assurance of Salvation in 1 John
Product Details
About the New American Studies in Bible and Theology
The books in this series often take a biblical difficulty as their point of entry, remembering B.F. Westcott's point that "unless all past experience is worthless, the difficulties of the Bible are the most fruitful guides to its divine depths."
This new series is to be a medium through which the work of evangelical scholars can effectively reach the church. It will include detailed exegetical-theological studies of key pericopes such as the Sermon on the Mount and also fresh examinations of topics in biblical theology and systematic theology. It is intended to supplement the New American Commentary, whose exegetical and theological discussions so many have found helpful. These resources are aimed primarily at church leaders and those who are preparing for such leadership. We trust that individual Christians will find them to be an encouragement to greater progress and joy in the faith. More important, our prayer is that they will help the church proclaim Christ more accurately and effectively and that they will bring praise and glory to our great God.
About That You May Know
The fifth book of the New American Commentary Studies in Bible & Theology series, That You May Know closely examines the theme of eternal salvation in 1 John. No other New Testament book speaks as frequently and explicitly to the believer's confidence in everlasting life. The epistle writer grounds his reader's assurance of salvation on the person and work of Jesus Christ and demonstrates that the believer's lifestyle serves as a vital corroborating support for that assurance. This gives the commentary's author Christopher Bass an opening to further discuss John's emphasis on living righteously and what it truly means to be born of God.
Users will find this an excellent extension of the long-respected New American Commentary series.
About the Author
Christopher David Bass received his Ph.D. in New Testament from The Southern Baptist Theological Seminary and is the church planter and pastor of Redeemer Fellowship Church in the Greater Boston area.
Endorsements
Assurance of salvation must be grounded in a careful study of the biblical text. Chris Bass has provided us with a thorough examination of assurance in 1 John. Here we see biblical theology at its best, for Bass's study is exegetically rigorous, theologically informed, and pastorally sensitive. I commend his work with enthusiasm to scholars, pastors, and all believers who desire to understand the hope that is ours in Christ Jesus.
That You May Know is a superb treatment of the doctrine of assurance discovered in 1 John. Bass does his homework in terms of his research, and he proves his thesis that assurance of eternal life is first grounded in the work of Christ, but that it also finds secondary and vital support in the lifestyle of the believer. His pastoral insights at the end of the book provide a much-needed word for the church today.
Bass presents the biblical balance of Christian assurance that is rooted in the work of Christ alone, yet a work that empowers true believers to love and good deeds. May Christian struggle with assurance; others believe they are saved when perhaps they are not. That You May Know brings much needed help on this pressing questions of the Christian life.
We are indebted to Christ Bass for his fresh examination of this vital Christian doctrine. Drawing on the theological riches of 1 John, That You May Know brings John's overarching purpose to modern ears—Christians can know they are eternally secure in Christ. In the end, the gift of assurance and the doctrine of perseverance take us back to the very essence of the gospel—we are saved by grace through faith.