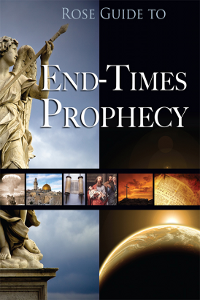 Rose Guide to End-Times Prophecy
Product Details
Jesus talked a lot about the end of time and his second coming. These are key teachings that every Christian should know. So why don't they?
Perhaps the topic seems too complex or too confusing. And that's a shame because it doesn't have to be.
The Rose Guide to End-Time Prophecy is an easy-to-understand overview that examines key portions of Scripture and explains different ways that Christians have interpreted end times prophecy. Simple charts and illustrations help you see the whole picture.
Includes explanations of and charts/diagrams for—
Book of Revelation — four ways Christians interpret it.
Book of Daniel — the statues, beasts, goats, and the 70 weeks. And three ways to interpret the 70 weeks
Four main Christian views of the end times: Pre-Mil, Post-Mill, A-Mill and Historical Pre-Mill
Terms in the Book of Revelation: the Beasts, 666, Millennium, Antichrist, Armageddon, and Tribulation
A Dispensational time line chart compared with two other Christian views of God's work with Israel
Jesus' teachings in Matthew 24, known as the Olivet Discourse, and two ways of understanding each passage (wars, rumors of wars, tribulation, earthquakes,etc.).
Two views of the Temple in the End Times
Ezekiel's Temple vision - 4 ways of understanding it
Important beliefs about the end times that all Christians hold.
This book will give you confidence as you look at the Bible and at events in today's newspapers. You will be better informed and will have a Christ-centered, biblically based view of Jesus' second coming.
About the Author
Award-winning author Dr. Timothy Paul Jones has bachelors and masters degrees in biblical literature and pastoral ministry, as well as a doctorate in educational leadership. He is a professor at the Southern Baptist Theological Seminary in Louisville, KY. In 2010 he won the ECPA Christian Book of the Year award in the Christian Education category for Christian History Made Easy.
Endorsements
For decades, Christians have taken one side or another in the interpretation of the Bible's future events. I like the "different views" approach because it allows believers to think and decide for themselves. I love the charts, diagrams and pictures!
...Timothy Paul Jones, one of the most brilliant scholars in the Christian world, takes the words of Jesus seriously, all of them, including the ones about the end. Read and be blessed.