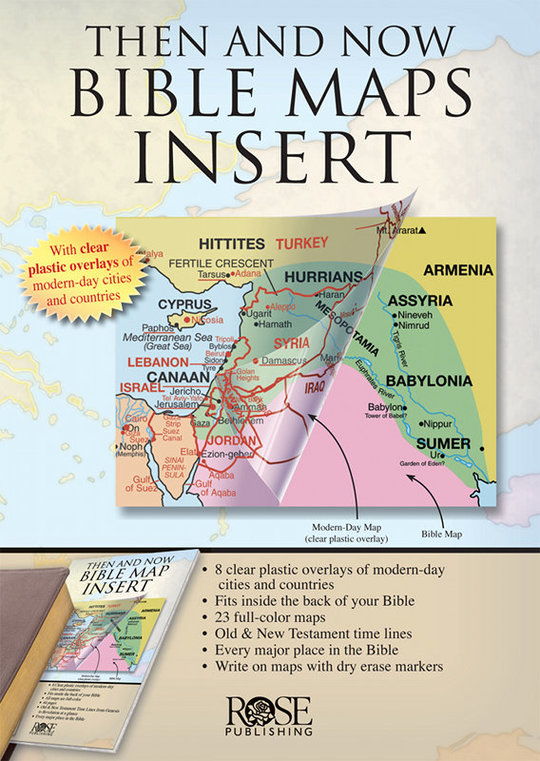 Then and Now Bible Maps Insert
Product Details
Tired of looking at the tiny maps included in the back of your Bible and still not understanding an ancient city's location? Most study Bibles provide maps showing only the position of cities during biblical times in super small print, making your study efforts frustrating, time consuming, and incomplete.
Rose Publishing's Then and Now Bible Map Insert provides clear plastic overlays, making it easier than ever to see where biblical places were 3000 years ago and where they are today.
Knowing the whereabouts of ancient cities and their distance from modern-day locations remains an essential part of any Bible study. The Then and Now Bible Map Insert enables you to conveniently place over 22 full-color maps within your Bible to reference throughout your Bible study.
With this insert, you will easily find out fascinating facts, such as—
The ruins of Nineveh are in Northern Iraq near Mosul in Kurdish areas.
The wise men were probably from Iran or Saudi Arabia.
Queen Esther's throne was less than 300 miles northeast of Kuwait City.
Then and Now Bible Maps Insert features:
Middle East: Then & Now maps
Old Testament Time Line
Abraham's Journeys
Journeys of Jacob and Joseph
Families of Abraham, Isaac, and Jacob
The Exodus: Then & Now maps
Judges and Prophets of Israel
Holy Land-Twelve Tribes: Then & Now maps
The Cycle Pattern in Judges
Holy Land-United Kingdom: Then & Now maps
The Tabernacle
Holy Land-Divided Kingdom: Then & Now maps
Assyrian Empire: Then & Now maps
Babylonian Empire map
Persian Empire maps
New Testament Time Line
Jerusalem map
Holy Land-New Testament: Then & Now maps
Paul's Travels and Missionary Journeys maps
Paul's Journey to Rome
Index