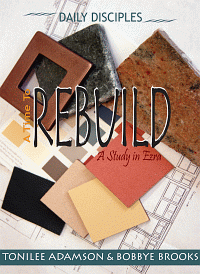 Daily Disciples - A Study in Ezra
A Time to Rebuild
Product Details
The book of Ezra takes a serious look at our priorities and the foundation of our lives. God continues to promise His children great blessings and peace but these things come with a commitment to follow the Lord wholeheartedly. If the foundation of our lives in not built with strong enduring materials, the storms of life will take us down. For some of us, we need to start over. God is in the business of restoring, rebuilding and redeeming whatever you are willing to relinquish to Him.
Some of us have made a mess with the materials. We have not had the proper tools to build or the wisdom to make the right choices. All that the Lord asks from us is to look to Him as the Master Builder. He does not need our help but He does need our willingness to listen, learn and change. Does it hurt? Yes, at times. But there is no greater place to be but in the Master Builder's hands. Are you read to listen? Do you want to start over? We are not talking about a remodeling or a face lift but a whole new house, new plan, a new start.
About Daily Disciples
Daily Disciples Ministries, Inc. was founded by Tonilee Adamson and Bobbye Brooks who met at a church bible study and became prayer partners. For over ten years, they have shared a passion to help others change, grow and succeed. Like many women today, both have professional backgrounds, busy lives and active families, which give them insight into the struggles and challenges of walking out the Christian life everyday.
Daily Disciples Ministries was founded with a mission to evangelize and disciple through Bible studies, online devotionals, radio programs, video webcasts, and live events. This ministry reaches the world daily through the online messages that extend beyond physical lines and boundaries.
The knowledge, experience and information developed through Daily Disciples have allowed Bobbye & Tonilee to extend their outreach beyond Christian venues and into the world.