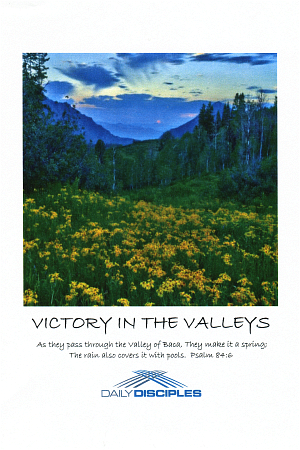 Daily Disciples - Victory in the Valleys
Product Details
We all love our mountain top experiences with God, but they are usually moments in time. We spend most of our days in the valleys. This study highlights four different valleys in Scripture. Each valley reflects a place of both physical and spiritual components: new life, faith, obedience and praise. Each valley is depicted from the Old Testament with strong applications from the New Testament. We will learn how to overcome the valley of the shadow of death to find and abundance of life. When the valleys of life seem long, dark and dry, we need to find strength in His promises to keep us going forward. This study will give us strength as we walk through these valleys of life, for we are not alone.
About Daily Disciples
Daily Disciples Ministries, Inc. was founded by Tonilee Adamson and Bobbye Brooks who met at a church bible study and became prayer partners. For over ten years, they have shared a passion to help others change, grow and succeed. Like many women today, both have professional backgrounds, busy lives and active families, which give them insight into the struggles and challenges of walking out the Christian life everyday.
Daily Disciples Ministries was founded with a mission to evangelize and disciple through Bible studies, online devotionals, radio programs, video webcasts, and live events. This ministry reaches the world daily through the online messages that extend beyond physical lines and boundaries.
The knowledge, experience and information developed through Daily Disciples have allowed Bobbye & Tonilee to extend their outreach beyond Christian venues and into the world.