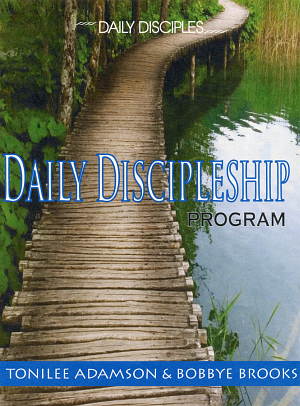 Daily Discipleship Program
Product Details
What does a disciple look like and what do disciples do? Can anyone be a disciple? And if you are a Christian, are you required to be a disciple because you have chosen to believe in the Lord Jesus Christ?
To be a disciple of Jesus Christ means to love nothing more than Him. It also means the understanding of bearing a cross. Both of those concepts hurt our flesh and are hard to accept for anyone. Think about it, would any of us accept Jesus as our Lord and Savior if we knew that these were the terms in following Him? At times, the cost of discipleship can be overwhelming in our daily lives; and it involves a level of trust that many of us have a hard time understanding.
How do we get started? We can only become a disciple of Christ by focusing on Him. As we pick up our bibles daily, we learn more about His ways, we learn more about His love, and we pray more from His heart. There is a progression to our faith.
This Discipleship Program is designed to help you grow in your walk with Christ. With combined personal study lessons and Biblical teachings, this program is a life-changing commitment for its participants. The topics are divided into 6 lessons: 1) The Character of God; 2)How to Know Your Calling; 3)Life's Trials...How to Live and Learn; 4) Spiritual Gifts and Application; 5)Evangelism and Your Testimony; and 6)The Daily Life in Christ.
About Daily Disciples
Daily Disciples Ministries, Inc. was founded by Tonilee Adamson and Bobbye Brooks who met at a church bible study and became prayer partners. For over ten years, they have shared a passion to help others change, grow and succeed. Like many women today, both have professional backgrounds, busy lives and active families, which give them insight into the struggles and challenges of walking out the Christian life everyday.
Daily Disciples Ministries was founded with a mission to evangelize and disciple through Bible studies, online devotionals, radio programs, video webcasts, and live events. This ministry reaches the world daily through the online messages that extend beyond physical lines and boundaries.
The knowledge, experience and information developed through Daily Disciples have allowed Bobbye & Tonilee to extend their outreach beyond Christian venues and into the world.