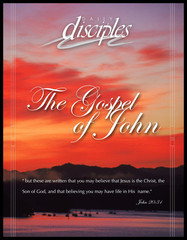 Daily Disciples - The Gospel of John
Product Details
The Gospel of John is a powerful, life changing study. Regardless of background of denomination, there is a message of love, peace and unity in the Gospel of John. Through the writings of John, the beloved disciple, we come to know Jesus in a more personal and intimate way. We learn about the seven "I Am" statements, Jesus' final words with his disciples, and the introduction of the Holy Spirit and God's amazing love for us. This study will help you apply Jesus' words to your own heart in a personal way.
About Daily Disciples
Daily Disciples Ministries, Inc. was founded by Tonilee Adamson and Bobbye Brooks who met at a church bible study and became prayer partners. For over ten years, they have shared a passion to help others change, grow and succeed. Like many women today, both have professional backgrounds, busy lives and active families, which give them insight into the struggles and challenges of walking out the Christian life everyday.
Daily Disciples Ministries was founded with a mission to evangelize and disciple through Bible studies, online devotionals, radio programs, video webcasts, and live events. This ministry reaches the world daily through the online messages that extend beyond physical lines and boundaries.
The knowledge, experience and information developed through Daily Disciples have allowed Bobbye & Tonilee to extend their outreach beyond Christian venues and into the world.