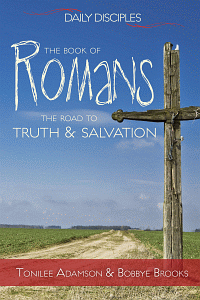 Daily Disciples - The Book of Romans
The Road to Truth & Salvation
Product Details
The message in the book of Romans has awed and astonished people throughout history. Scholars and commentators have marveled at the spiritual depths of the gospel message presented in the letter by Paul. Martin Luther's world as he knew it changed after he studied the book of Romans. The Protestant Reformation erupted once the teachings of Romans were made available to the public. Lives were changed with the message of hope, justification and righteousness, not of works, but of grace. Paul makes it clear throughout this letter that there is no Christianity without Jesus Christ. He is the center. He is the answer. He is the One that came to save. To believe in Him and to place our faith in Him are the keys to our freedom from sin and its bondage. This is a 16 lesson study.
About Daily Disciples
Daily Disciples Ministries, Inc. was founded by Tonilee Adamson and Bobbye Brooks who met at a church bible study and became prayer partners. For over ten years, they have shared a passion to help others change, grow and succeed. Like many women today, both have professional backgrounds, busy lives and active families, which give them insight into the struggles and challenges of walking out the Christian life everyday.
Daily Disciples Ministries was founded with a mission to evangelize and disciple through Bible studies, online devotionals, radio programs, video webcasts, and live events. This ministry reaches the world daily through the online messages that extend beyond physical lines and boundaries.
The knowledge, experience and information developed through Daily Disciples have allowed Bobbye & Tonilee to extend their outreach beyond Christian venues and into the world.