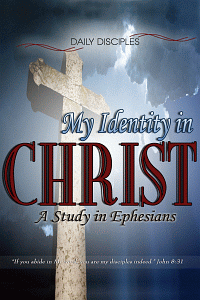 Daily Disciples - Ephesians
My Identity in Christ
Product Details
The book of Ephesians in an enlightening study for us as believers as we study and learn our true identity in Jesus Christ. We will also learn about the great "mystery" of how the Gentiles became heirs to the promise of God and are considered one in Christ, Jews and Gentiles alike. We are set apart by God for His purposes by His good pleasure. For these and other reasons that will be revealed throughout this study, we will be impacted personally and spiritually in ways unexpected. We will be challenged to think, to act and to live our lives with a different perspective. We believe, we receive His Holy Spirit and we are sealed for eternity, with Him in heaven. Our lives will be forever changed if we can truly apply this book.
About Daily Disciples
Daily Disciples Ministries, Inc. was founded by Tonilee Adamson and Bobbye Brooks who met at a church bible study and became prayer partners. For over ten years, they have shared a passion to help others change, grow and succeed. Like many women today, both have professional backgrounds, busy lives and active families, which give them insight into the struggles and challenges of walking out the Christian life everyday.
Daily Disciples Ministries was founded with a mission to evangelize and disciple through Bible studies, online devotionals, radio programs, video webcasts, and live events. This ministry reaches the world daily through the online messages that extend beyond physical lines and boundaries.
The knowledge, experience and information developed through Daily Disciples have allowed Bobbye & Tonilee to extend their outreach beyond Christian venues and into the world.