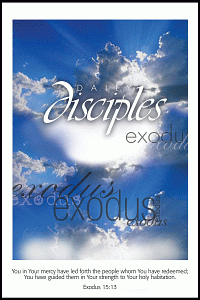 Product Details
The book of Exodus chronicles the lives of the Israelites as they are led out of Egypt on a journey to enter the promised land. Through their leader, Moses, God delivers them from their bondage in Egypt and forms them into a new nation. God demonstrates His awesome signs and wonders throughout this book and despite the peoples' disobedience, God remains faithful to hear their cry and to answer them. Exodus lays the foundation for new concepts as we are introduced to the Ten Commandments, the distinction of duties of the twelve tribes and the building of the temple of God. This study is designed to ground its participants in foundational principles necessary for further growth and maturity in Jesus.
About Daily Disciples
Daily Disciples Ministries, Inc. was founded by Tonilee Adamson and Bobbye Brooks who met at a church bible study and became prayer partners. For over ten years, they have shared a passion to help others change, grow and succeed. Like many women today, both have professional backgrounds, busy lives and active families, which give them insight into the struggles and challenges of walking out the Christian life everyday.
Daily Disciples Ministries was founded with a mission to evangelize and disciple through Bible studies, online devotionals, radio programs, video webcasts, and live events. This ministry reaches the world daily through the online messages that extend beyond physical lines and boundaries.
The knowledge, experience and information developed through Daily Disciples have allowed Bobbye & Tonilee to extend their outreach beyond Christian venues and into the world.