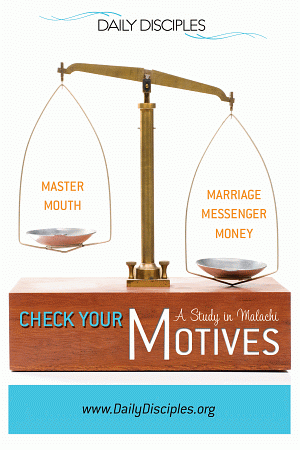 Daily Disciples - Malachi
Check Your Motives
Product Details
This study in the book of Malachi is designed to challenge us as Christians regarding our motives today. This short book addresses relevant topics influencing our lives: Who's your Master? How's your mouth? Where's your marriage? What gets your money? Who me, His Messenger? When God challenged the people and the priests on their treatment of these specific issues, they did not understand what they had done wrong. God's message is the same for us today, asking us to reconsider our motives. Your life will change as you allow the Lord to speak to you and see clearly the true motives of your heart.
About Daily Disciples
Daily Disciples Ministries, Inc. was founded by Tonilee Adamson and Bobbye Brooks who met at a church bible study and became prayer partners. For over ten years, they have shared a passion to help others change, grow and succeed. Like many women today, both have professional backgrounds, busy lives and active families, which give them insight into the struggles and challenges of walking out the Christian life everyday.
Daily Disciples Ministries was founded with a mission to evangelize and disciple through Bible studies, online devotionals, radio programs, video webcasts, and live events. This ministry reaches the world daily through the online messages that extend beyond physical lines and boundaries.
The knowledge, experience and information developed through Daily Disciples have allowed Bobbye & Tonilee to extend their outreach beyond Christian venues and into the world.