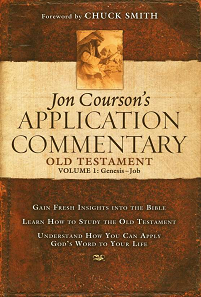 Courson's Application Commentary, Old Testament Volume 1
(Genesis-Job)
Product Details
In a unique blend of pertinent information and inspiration, Jon Courson's Application Commentary sheds light in a fresh way on the timeless truths of God's Word. Courson has amassed a wealth of interesting topics in a very readable and comfortable expositional style. He combines a thorough and comprehensive teaching of every paragraph of Scripture in the Old Testament along with practical in-depth topical studies.
His unique ability to articulate insightful spiritual truths with valid life applications makes this commentary a valuable tool for anyone who wants to make their lives a relevant witness for Jesus Christ in the twenty-first century.
About the Jon Courson Application Commentary Series
Jon Courson Application Commentary Series is unique in the world of commentaries. It's as easy to read as your favorite novel, and still as informative as any Bible commentary. It shares the distinction of being a scholarly work and a true labor of love. Pastor Jon's life lessons, good humor, trials, and love for the Word are poured out in testimony over and over in the pages of this book as he takes you by the hand and guides you through the New Testament.
Created from years of recording teachings, this commentary has been carefully transcribed, compiled, and edited to created an easy to read, verse-by-verse, devotional commentary of the Old Testament. More than one hundred topical studies/sermons are laced throughout the commentary—each filled with colorful information and background illustrations that will help you see each book of the Old Testament in a way you've never experienced. Pastor Jon's stories are so relevant and vivid, you'll almost forget you're reading a Bible commentary.
About the Author
In 1977, Pastor Jon Courson founded the Applegate Christian Fellowship church in southern Oregon with a congregation of twenty. Today, Applegate ministers to 7,000 people each week. In 2002, Pastor Jon accepted a request to join his longtime mentor and friend, Chuck Smith, at Calvary Chapel in Costa Mesa, California.
Pastor Jon is now teaching a Pastor Training School in Carmen Serdan, Mexico for young men from the United States who feel called to be pastors. In addition, Pastor Jon speaks nationally and internationally at numerous churches, conferences and retreats.
Searchlight, Jon's radio teaching ministry, is aired on more than 400 radio stations daily. Pastor Jon has amassed more than 1,500 expositional and topical Bible studies during his ministry, all of which can be accessed free of charge. He is the author of A Future and a Hope, A Day's Journey, A Place for You and A Pillar By Day. He lives in Carmen Serdan, Mexico and Sand Diego, California with his wife Tammy. They have five children and two grandchildren.