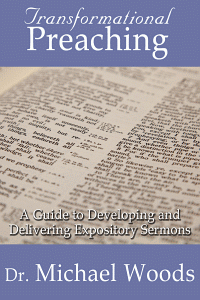 Transformational Preaching
A Guide to Developing and Delivering Expository Sermons
Product Details
Better learn to develop and deliver sermons that will take your listeners deep into the truths of a Bible passage. This book is clear, concise and provides to-the-point instruction. This comprehensive guide includes illustrated step by step instruction developing three sermons from start to finish and three additional example sermons in completed form.
About the Author
Dr. Woods, the founder of the MWE School of Ministry, has great passion for his students as he seeks to raise each to higher levels of effectiveness in his and her calling. Over the years Dr. Woods has served as a deacon, associate minister, assistant pastor and for 25 years served as a senior pastor. For almost two decades he has served as a professor of Homiletics at a local seminary.
Endorsements
The Art of Expository Preaching in the African-American church is almost a lost art. Dr. Woods has embraced this style, and taken it to a new height. His oratory and presence in the pulpit is a gift from God. He has the gift to keep you hanging on his every word, while breaking down the Scriptures the way the Bible writers wanted us to receive them. Expository Preaching is the way for Preachers to be "true to the text", and Dr. Michael Woods is one of the best I've heard.
Dr. Michael Woods is one of the best expository preachers I have heard. He has given us his excellent insights into the development and delivery of expository preaching within the pages of this new work. I recommend that every preacher who desires to "Preach the Word" obtain a copy and apply its contents.
In this work Dr. Michael Woods communicates the classic expository preaching components in fresh new ways. This treatise furnishes new wineskins for the vibrant wine of transformational preaching. Although the author's preaching was planted in the soil of the African American religious experience, this compendium features his approach to preaching as a hybrid that provides a rationale and methodology that can be used effectively in any culture. It may be employed both in the academy and in the church to promote biblical preaching that exalts the Savior and edifies the believer.
I had never prepared a sermon before I took Dr. Woods' Biblical Exposition course, yet upon the completion of the course I had more than the basic understanding and basic foundation in preparing a sermon. Dr. Woods' book Transformational Preaching: A Guide to Developing and Delivering Expository Sermons is highly recommended for those who have never preached or taught a sermon. It is also for those who desire to improve the organization of a sermon. This tool gives detailed easy to follow step-by-step instructions and clear examples of completed sermons. Transformational Preaching will better prepare the teacher-preacher to translate God's Word to today's audience -transforming lives.
The most precious gift God has given me is the Calling on my life to preach. Given such a divine privilege, I must prepare. Reading the book, "Transformational Preaching", by Dr Woods has truly began shining a light of knowledge on my path of understanding, as to how I should properly prepare a sermon and preach the word of God. My objective is to always preach as though someone's life is depending on it. This book and the guidance of Holy Spirit will bless me to reach this goal.
What sets Transformational Preaching apart from the other books on expository preaching I have read is that the instructions given in Transformational Preaching are simple and practical for those wishing to better communicate the Word of God. Whether one is a Bible college student just beginning to learn expository preaching or one is a seasoned veteran preacher, Transformational Preaching makes it simple for the serious student of the Word of God learn how to proclaim true transformational expository messages. It is a work that has truly transformed me, and it is one I will highly recommend time and time again.
While enrolled in the MWE School of Ministry, I discovered how much I didn't know. Dr Woods' shares all of his knowledge and he teaches with great enthusiasm. No matter how many years you have been in the ministry or what level you are on, he will meet you. I always refer to his practical method that he teaches in his classes and his books. Transformational Preaching (the book) is my base when I write a sermon, teach Sunday school or read God's Word. It is a wonderful experience when you are blessed with a teacher who cares if you understand and teaches from the heart. I love Ministry with Excellence and will continue to support it.
I thank God for Dr. Woods for being a vessel of service in imparting his impeccable wisdom and remarkable teaching Through the MWE School of Ministry. Dr. Woods has taught me how to better comprehend and interpret the Bible. I have matured in distinguishing the difference between Expository and Topical preaching and how to effectively develop and deliver an expository sermon through his book "Transformational Preaching." Transformational Preaching is a must-have for your library.
... Dr. Michael Woods' two books, Transformational Preaching and What Now Lord? are a "must have." I have used these two books as teaching tools at the school and in the church I lead.