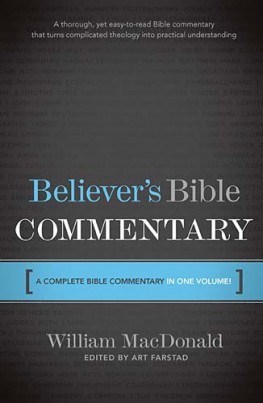 Believer's Bible Commentary
A Complete Bible Commentary
Highlights
Nelson's best-selling Bible commentary
Product Details
Make Bible study a part of your daily life with the thorough yet easy-to-use Believer's Bible Commentary. MacDonald tackles the controversial issues head-on, taking a theologically conservative stand, yet presenting alternate views with fairness. The Believer's Bible Commentary is a friendly guide to exploring the deeper meanings of every biblical book.
Balanced approach to linguistic studies and useful application
Easy to understand
Use with any Bible translation
Photos, maps, and charts throughout
Explore deeper meanings of every Bible book
For students, preachers, teachers, and writers
This work by Dr. William MacDonald is a gem of a commentary. Whether you are a seasoned minister or a new Christian, you'll find something new and applicable in every chapter. Sometimes MacDonald takes a verse-by-verse approach, and when appropriate, his comments follow the Bible text paragraph-by-paragraph. The result is a focused examination of the entire Bible. MacDonald wisely relegates most technical issues to his endnotes, but he never dodges difficult passages or convicting applications.
About the Author
William MacDonald (1917-2007) was a teacher, theologian, President of Emmaus Bible College, and author of over 84 books. On these books, he refused to accept royalties so he could direct them to translation the Believer's Bible Commentary into foreign translations. 24 translations have been completed so far.
Endorsements
The Believer's Bible Commentary by William MacDonald is one of the richest publications to be offered to the Christian world. It possesses a richness in background study and an enlightenment in present understanding that can and will forever bless the student of Holy Scriptures...The messages presented from the inspired text are pertinent to modern life and living. I commend the volume to the believing world with all my heart.
Believer's Bible Commentary provides for every strand of the family of believers a much needed resource on the Bible. It is a refreshing work just brimming with clear exposition for one who desires to know the Scriptures. Both author and editor display a thorough mastery of the text, enhanced by a deep spiritual perception of the truth. I commend with confidence this choice volume to Christians everywhere.