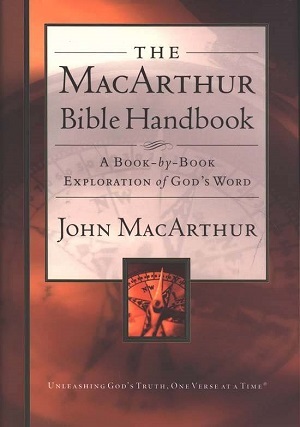 The MacArthur Bible Handbook
A Book-by-Book Exploration of God's Word
Product Details
The MacArthur Bible Handbook is the perfect complement to any commentary in your WORDsearch library, but especially to John MacArthur's commentaries. An accurate source of answers for the kinds of questions that could discourage your personal studies, this handbook gives you precise and organized answers. After checking The MacArthur Bible Handbook, you can dive right back into God's Word.
For each book of your Bible, MacArthur quickly gives you answers. Each book contains:
Title and Its Meaning
Author and Date of the Book
Background and Setting - With historical notes about the book
Key People in the Book
Historical and Theological Themes - Broad biblical themes throughout the book
Key Doctrines in the Book - Central teachings in the book
God's Character in the Book - Key aspects of God's character illustrated
Christ in the Book - How Christ can be found in that book
Key Words in the Book - Significant words used
Interpretive Challenges - Difficult themes or concepts in the book
Outline - Formal structure of the book
Meanwhile, In Other Parts of the World... - Global historical context of the book
Answers to Tough Questions About the Book
Further Study - Basic questions for reflection as you read
This is the handbook you'll want open alongside your Bible in WORDsearch. It also includes charts, maps, tables, and diagrams that help make sense of what you are studying. MacArthur is committed to quality, and his biblical teaching will help you easily understand each book of the Bible, along with its historical context and place in Scripture.
The MacArthur Bible Handbook is a rich resource to expand your knowledge and understanding of God's Word and encourage your personal exploration into its life-transforming truth.
Check out a sample by clicking on the Sample button.
About the Author
John MacArthur, Jr. pastors Grace Community Church in Sun Valley, California, and serves as President of the Master's College and Seminary. A well-known Bible expositor and conference speaker, he has written over 150 books. He is also the Bible teacher on "Grace to You", an international radio broadcast. He and his wife Patricia live in Southern California and have 4 grown children and eleven grandchildren.