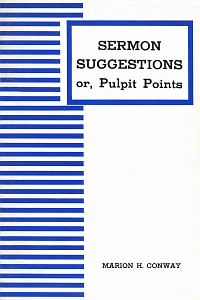 Sermon Suggestions or, Pulpit Points
Product Details
Pulpit Points have been selected by Conway from the over five hundred sermons delivered during his ministry. These points cover the text, along with the germ of the text itself. They are different from regular outlines, and are not what we would call skeletons, in that they are easily memorized, or can be used as Bible inserts, or readily copied.
The form of each one is identical, using the letter system as a., b., etc. This avoids the confusion of numbers and letters combined. Each text is a complete unit, to be filled in with your own suggestions and comments. This makes it an entirely new setting for the formation of sermons in a very simple, understandable way.
It is a sturdy framework around which to build the complete message, with all its spiritual force and power. There are two hundred and seventy pointers for regular sermons.
These are not sermon outlines, but are sermon suggestions or pulpit points. Any sermon can be built around the text that you select, from the headed subject, as all references are positive, and to the point.