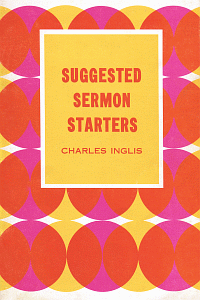 Suggested Sermon Starters
Product Details
Of the Analytical power of the Author, every page bears witness. Of his knowledge of the Bible, each study is evidence. Of his industry this fresh crop from a field which has already yielded many similar ones, the prodigality and profusion of these studies is conclusive proof. Indeed in him is fulfilled the ancient promise to the man who delights in the Law of God, "he shall be like a tree planted by the rivers of water that bringeth forth his fruit in his season."
This book is intended to serve a double purpose: (1) to focus the attention on a timely and worthy text and subject, and (2) to reveal some facet of a text or passage which might otherwise go unnoticed.
This book is a part of the Sermon Library. The series is the answer to the urgent demand for Scriptural and appropriate sermon material. the books are designed to aid the busy minister by putting at fingertip a wealth of sermon ideas, helps and illustrations.
About the Author
Charles Inglish (1734-1816)was an Irish clergyman. He was consecrated the first Church of England bishop of the Diocese of Nova Scotia.